Panel with series reactors are use to control these power quality problems are created by the consumer's load, these anomalies can also easily travel within the common electricity supply network between premises, in turn disrupting a neighbouring consumers supply. In response to these occurrences, supply authorities have adopted guidelines such as IEEE-519 in order to limit the level of disturbance created by each individual consumer.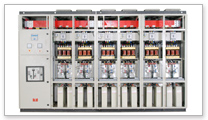 PANELS WITH SERIES REACTORS
We design and supply Harmonic filter panels as per the analysis report provided by the customer and studied by our technical experts for giving the maximum output with harmonic suppression.

All the Harmonic Filters are subjected to following tests.

Insulation test 3KV
Test of each filter step with contactor at rated voltage
Power factor relay operations
Visual inspection